3 Reasons Why Spiritual Disciplines Matter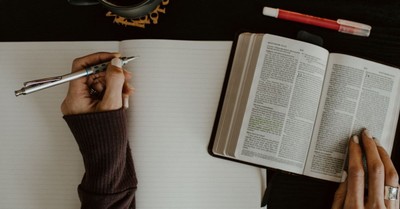 By Milton Quintanilla, Crosswalk.com
The Christian life is one of continued growth that exceeds conversion. Not only is it lifelong, it is eternal, and while we are alive, we must continue growing in God. Throughout our walks of faith, God sanctifies us through His Holy Spirit so that we would conform to Christ. While God works in our lives in sanctification, we also work alongside Him in making every effort to grow in Christlikeness. So, what does that look like practically?
Let's talk about spiritual disciplines that every Christian should apply in their lives for spiritual growth. Some examples of spiritual disciplines include fasting, prayer, Bible reading, meditation, and worship. In the apostle Paul's first letter to Timothy, he talks about the importance of spiritual discipline in the lives of Christians.
"Have nothing to do with irreverent, silly myths. Rather train yourself for godliness. For physical exercise is of limited value, but godliness is valuable in every way, holding promise for the present life and for the one to come." 1 Timothy 4:7-8 (English Standard Version)
For the record, spiritual disciplines are not legalism nor salvific. We are not saved because of how committed we are to them since that would constitute salvation by work even though we are saved by God's grace (Eph. 2:8-9). If anything, spiritual discipline is a lifestyle of growth for the body of Christ. Let's discuss three reasons as to why spiritual disciplines matter for the Christian life: 1) Spiritual Disciplines Build Consistency, 2) Spiritual Disciplines Break and Prevent Spiritual Complacency, and 3) Spiritual Disciplines Draw One Closer to God.
1. Spiritual Disciplines Build Consistency
Like any habit, spiritual discipline is cultivated through consistency. It is ongoing, not sporadic. It is something done as frequently as possible rather than once in a while. You cannot expect growth if you lack discipline. Just like the physical body needs discipline to get stronger, how much more for the soul with spiritual discipline? As verse 8 reads, "for while bodily training is of some value, godliness is of value in every way, as it holds promise for the present life and also for the life to come."
Based on this verse, we see that spiritual discipline surpasses physical discipline as it holds both present and eternal value. Therefore, every true Christian must take it into consideration because it is essential to spiritual growth. And when consistency is established, spiritual disciplines become easier to apply since one becomes accustomed to doing it. Moreover, believers recognize that the Christian life is not only a life of purpose, but a life of continued growth. It is a life of going and growing in God.
2. Spiritual Disciplines Break and Prevent Spiritual Complacency
Let's face it; we've all been lazy at times. There are days in which we don't want to do anything, especially anything productive. Now we've also experienced the same type of laziness in our walks of faith, where we don't make time for the Lord like we used to. This is also known as spiritual complacency. Our regular routine of Bible-reading and prayer time diminishes and is replaced with trivial things like watching television or aimlessly scrolling on social media. Other times, the trials and hardships of life may prompt us to push away from God rather than draw closer to Him, whether it's due to unbelief or even frustration with the Lord for not bringing us out of it sooner. The things of God, including church, become indifferent to us, and we end up losing sight of our first love (Revelation 2:4).
If you're currently experiencing spiritual complacency, then I have good news for you: you can break out of it with spiritual disciplines. In doing so, you're able to snap out of whatever dry spell you're in and reignite your passion for the Lord. Please don't wait until you feel like practicing them, either. Feelings fluctuate, so you're not always going to be motivated to do something. But you know that when it's something important, you're going to do it anyway. For instance, you know to work regardless of how you feel because you need to make money, or you go to the gym regardless of how you feel because you want to reach your fitness goals.
When it comes to discipline, and in this case, spiritual discipline, it is about maintaining that consistency regardless of how you feel. Motivation alone isn't sufficient since feelings fluctuate, but discipline will keep you going long-term. In the case of spiritual disciplines, applying them in your life will keep you going long-term. Now, this doesn't mean that you won't have days where you got it all together. If anything, you'll end up skipping days due to whatever you got going on in your life.
3. Spiritual Disciplines Draw One Closer to God
Our third and final point in this post is that spiritual disciplines draw one closer to God. As Christians, we all want to get closer to God, right? It is my prayer request daily, and it should be yours too. In John 17:3, our Lord Jesus Christ defines eternal life this way, "And this is eternal life, that they know you, the only true God, and Jesus Christ whom you have sent." The Christian life is about knowing God. That is what we were made for. Not only that, we will seek Him for eternity.
While we are on earth, we must grow in our knowledge of the Lord. What better way to do so is through disciplining ourselves for the purposes of godliness! Drawing closer to God involves abiding in Christ, who is the "true vine" John 15:4. The rest of the Scripture reads this way:
"I am the vine; you are the branches. Whoever abides in me and I in him, he bears much fruit, for apart from me, you can do nothing. If anyone does not abide in me, He is thrown away like a branch and withers; and the branches are gathered, thrown into the fire, and burned. If you abide in me, and my words abide in you, ask whatever you wish, and it will be done for you." (v. 5-7)
"By this my Father is glorified, that you bear much fruit and so prove to be my disciples. As the Father has loved me, so have I loved you. Abide in my love. If you keep my commandments, you will abide in my love, just as l have kept my Father's commandments and abide in his love. These things I have spoken to you, that my joy may be in you, and that your joy may be full." (v. 8-11)
A life of spiritual discipline cannot be accomplished in our own strength. After all, we couldn't save ourselves to begin with, until God saved us. Likewise, this walk of faith involves our abiding in Christ in His power. To abide in Christ results in "much fruit," which is impossible apart from Him (v. 4). Abiding in Christ means abiding in His Word, and in doing so, God is glorified! As Christians, we must always strive to grow spiritually because, in doing so, God is glorified. We recognize that it's all about Him, not us, and that same God who is glorified in salvation is the same God who is glorified throughout our walks of faith.
In closing, spiritual discipline builds consistency, breaks and prevents spiritual complacency, and draws one closer to God. Christians should do well to regularly apply them in their lives as it would provide great benefit to them. May all of us be encouraged to utilize them to the glory of God.
Photo Credit: Unsplash/Kelly Sikkema
---
Milton Quintanilla is a freelance writer and content creator. He is a contributing writer for Christian Headlines and the host of the For Your Soul Podcast, a podcast devoted to sound doctrine and biblical truth. He holds a Masters of Divinity from Alliance Theological Seminary.