A New Beginning with Greg Laurie
Listen on AM 1160 Hope For Your Life
Monday
3:30AM - 4:00AM, 7:00AM - 7:30AM, 2:00PM - 2:30PM
Tuesday
3:30AM - 4:00AM, 7:00AM - 7:30AM, 2:00PM - 2:30PM
Wednesday
3:30AM - 4:00AM, 7:00AM - 7:30AM, 2:00PM - 2:30PM
Thursday
3:30AM - 4:00AM, 7:00AM - 7:30AM, 2:00PM - 2:30PM
Friday
3:30AM - 4:00AM, 7:00AM - 7:30AM, 2:00PM - 2:30PM
Saturday
2:30PM - 3:00PM, 6:00PM - 7:00PM
Latest Broadcast
What Heaven Knows About Earth
9/20/2021
During the cataclysm of The Great Tribulation stands a group of believers who came to Christ after the Rapture. Their integrity and testimony are exemplary. And Monday on A NEW BEGINNING, Pastor Greg Laurie helps us follow their example and be marked as one of God's own. Don't miss the insight!
Featured Offer from A New Beginning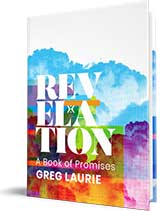 In thanks for your gift, you can receive 'Revelation: A Book of Promises' by Greg Laurie
Revelation is a book of promises! Promises that Jesus will come again, that He will right all wrongs, that He will bring Heaven to Earth, that there will be an end to pain, death, disease, and heartache. All of these promises and more make Revelation a book worth studying! We will mail you a copy when you make a donation of any amount to Harvest Ministries today!