Praying for Open Eyes (2 Kings 6:17) - Your Daily Bible Verse - May 25
Crosswalk.com

Praying for Open Eyes
By Brent Rinehart
"Then Elisha prayed and said, "O Lord, please open his eyes that he may see." So the Lord opened the eyes of the young man, and he saw, and behold, the mountain was full of horses and chariots of fire all around Elisha." - 2 Kings 6:17
You've probably heard the saying that someone "can't see the forest for the trees." It's often used to describe a person who is so involved in the details of a project that they are unable to view the situation as a whole. Put another way, it's when present circumstances shield the bigger picture. Thinking about this concept spiritually, sometimes the hardships we are facing can cause us to be blind to how God is moving in and through them.
I love this story about Elisha found in 2 Kings 6. The king of Syria was aiming to invade and take over Israel. His massive army surrounded the Israelite camp, and Elisha's servant was alarmed – with good reason! He didn't know what to do, so he ran to the prophet Elisha. Elisha said, "Do not be afraid, for those who are with us are more than those who are with them" (v. 16).
Elisha then prayed for God to open his servant's eyes, so he could see the same thing Elisha could see. "So the Lord opened the eyes of the young man, and he saw, and behold, the mountain was full of horses and chariots of fire all around Elisha" (v. 17).
I take great comfort in this passage, for it reminds me of a couple of key principles. First, it shows that God is still working even when we can't see it. Second, it reminds me that sometimes, God may give us vision if it's His will to do so... if we ask Him.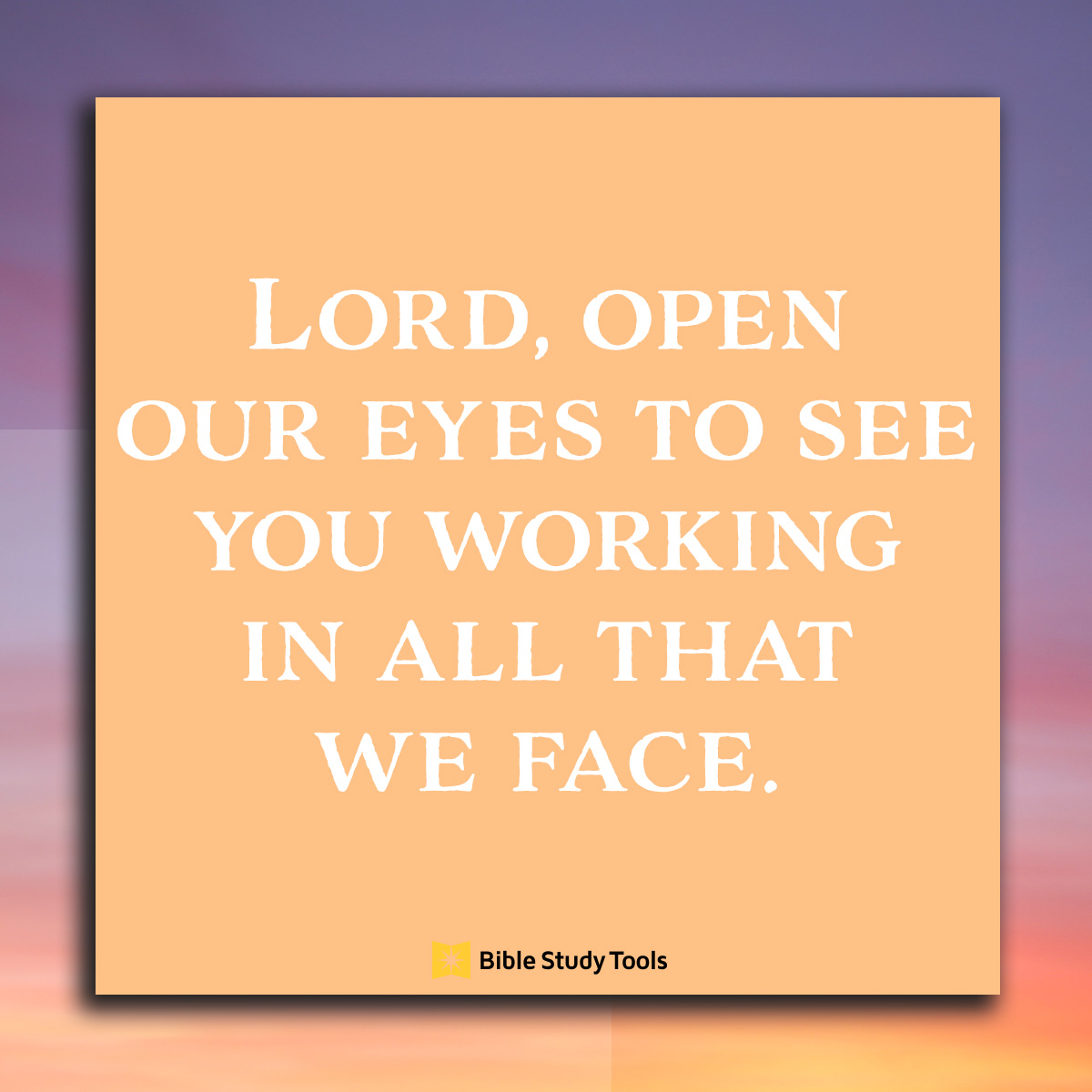 It may seem like the enemy is all around. It may appear like the odds are stacked against us. This world brings all sorts of trouble. From health scares and financial woes to job loss and relationship struggles, sometimes it feels like the world dishes out more than we can take. We can feel like we are fumbling around in a dark room trying to find the Light. But, we can rest in knowing God is in control. Remember, greater is He who is in you than he who is in the world (1 John 4:4). He's working all things together for our good and His glory (Romans 8:28).
Even more, this passage shows us God's willingness to give us His vision. We can ask God to open our eyes and open the eyes of the ones around us. When I can't see God moving, I should pray for open eyes to see what He's up to. When the ones I love around me can't see God moving, I should pray for God to open their eyes so they can see the big picture. God may not always let us in on His plans, but I believe the process of asking Him reminds us that He is at work and we can trust Him.
What are the circumstances in your life blocking your view of how God is moving? What hardships are you facing that are keeping you from fully trusting God? We can ask God to give us His eyes. Whether or not we ever see the mountain full of "horses and chariots of fire," we can trust and have faith that God is good and He's working in and through our difficult circumstances.
---
Brent Rinehart is a public relations practitioner and freelance writer. He blogs about the amazing things parenting teaches us about life, work, faith and more at www.apparentstuff.com. You can also follow him on Twitter at @brentrinehart.
We want to experience God through the Bible… we really do!
But our good intentions fall flat when reading the Bible just doesn't seem to help us experience God in a real way. What should feel alive often feels confusing and boring and irrelevant. But it doesn't have to.
In the How to Study the Bible podcast, pastor and Bible teacher Nicole Unice brings life back to reading the Bible by walking listeners through her Alive Method of Bible study, helping us personally encounter God through his Word by giving us a practical, clear road map for understanding, interpreting and applying Scripture to our lives. Just click below to start listening now!