Laughter Is the Best Medicine - Crosswalk Couples Devotional - March 9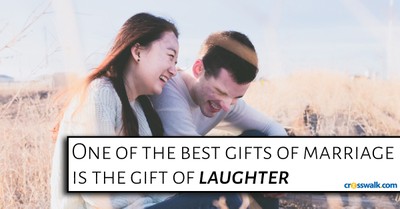 Crosswalk.com

Laughter is the Best Medicine
By: Betsy St. Amant Haddox
For everything, there is a season, and a time for every matter under heaven: a time to be born, and a time to die; a time to plant, and a time to pluck up what is planted; a time to kill, and a time to heal; a time to break down, and a time to build up; a time to weep, and a time to laugh…- Ecclesiastes 3:1-4 (ESV)
It can be hard to find joy in marriage. We are so easily overcome by the tasks on our plates, the bills on the counter, the fledgling dollars in the bank and the grades on the report card. Marriage can all too quickly morph into a daily to-do list, turning a romantic relationship into a platonic partnership more akin to roommates than lovers.
So how do you guard against apathy? How do you protect your marriage from the dullness of the constant day-in and day-out routine? What is the key to remembering that you love each other and chose this life together—and that it's a good thing?
I believe one of those keys is the gift of laughter.
The Bible tells us in Ecclesiastes that there's a time for everything: a time to be born, and a time to die, a time to plant and a time to pluck, etc. In that list is a time to weep, and a time to laugh. I think as couples, we forget the laughter part. Marriage is full of weeping-worthy moments. We experience death, and grief, and loss. We experience hardship and trials and struggles. These moments of sadness often bond and have their purpose. But, so does laughter!
Think about a time when you were angry with your spouse, but something makes you laugh against your will, and before you knew it, you immediately felt ten times lighter? The burden of the bitterness floated away on the wake of laughter. This is intentional. This is designed by God. Laughter alleviates stress and connects people in a unique way.
Make the effort this week to laugh with your spouse. See a funny movie or read the comics together. Listen to a Christian comedian. Play a board game. Read snippets of humorous books out loud to each other. Even go so far as to laugh at yourself with your spouse! Keep a light heart and a positive outlook and discover the joy in the mundane. It's easy to stress out—but it's much harder to try to find the humor when things go wrong. Challenge yourself with these words from Ecclesiastes to find the time to laugh!
And remember—next time you're tempted to argue or fight, relieve the tension by sharing laughter instead of harsh words. Create a funny "buzz word" so when conflict arises, you shout "French fries" or "Snoockemfritz" at each other before you begin your discussion. A lot of arguments are escalated by inaccurate emotion. Laughing together lowers the intensity of your feeling and helps you see more clearly—and therefore, help you hear your spouse more clearly.
---
Betsy St. Amant Haddox is the author of over fifteen inspirational romance novels and novellas. She resides in north Louisiana with her drummer of a hubby, two story-telling young daughters, a collection of Austen novels, and an impressive stash of pickle chips. Betsy has a B.A. in Communications and a deep-rooted passion for seeing women restored in Christ. When she's not composing her next book or trying to prove unicorns are real, Betsy can usually be found somewhere in the vicinity of a white-chocolate mocha. Visit her and see a list of books at http://www.betsystamant.com./
It's time we get real about marriage & relationships! Join marriage coach, Dana Che, as she and her guests deliver witty, inspirational, real relationship talk from a faith-based perspective. New episodes of the Real Relationship Talk Podcast drop every Tuesday.