6 Comfort Soup Recipes to Try This Fall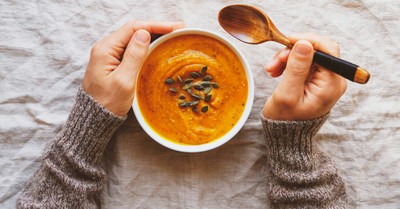 By Alicia Searl, Crosswalk.com
'Tis the season for all things warm, cozy, and comforting. Yippee! Just writing that excites me as I have already decked the halls – with pumpkins, trimmed the mantel and staircase with fall garland, and am currently sipping on my pumpkin spice latte. Yum-O!
I know, I know, sounds heavenly, doesn't it? Well, guess what! As you welcome in all the "fall feels," I have got some yummy recipes that you are just going to have to try! Trust me, these will not only taste utterly delicious, but the smells alone will wake up your home (and everyone it in) with a sweet reminder that this time of year literally smells as good as it looks!
Below are six simply delicious fall "comfort soup" recipes that will be sure to bring some smiles to your little darling's faces and, who knows…maybe even posture their hearts to feeling thankful for His daily bread. Oh, and speaking of bread, I am attaching a scrumptious and easy-to-bake bread recipe, too!
Because what soup doesn't go well with fresh baked bread, am I right? Yay, bonus recipe!
So, with that, let's get started!
Photo credit: ©GettyImages/PippiLongstocking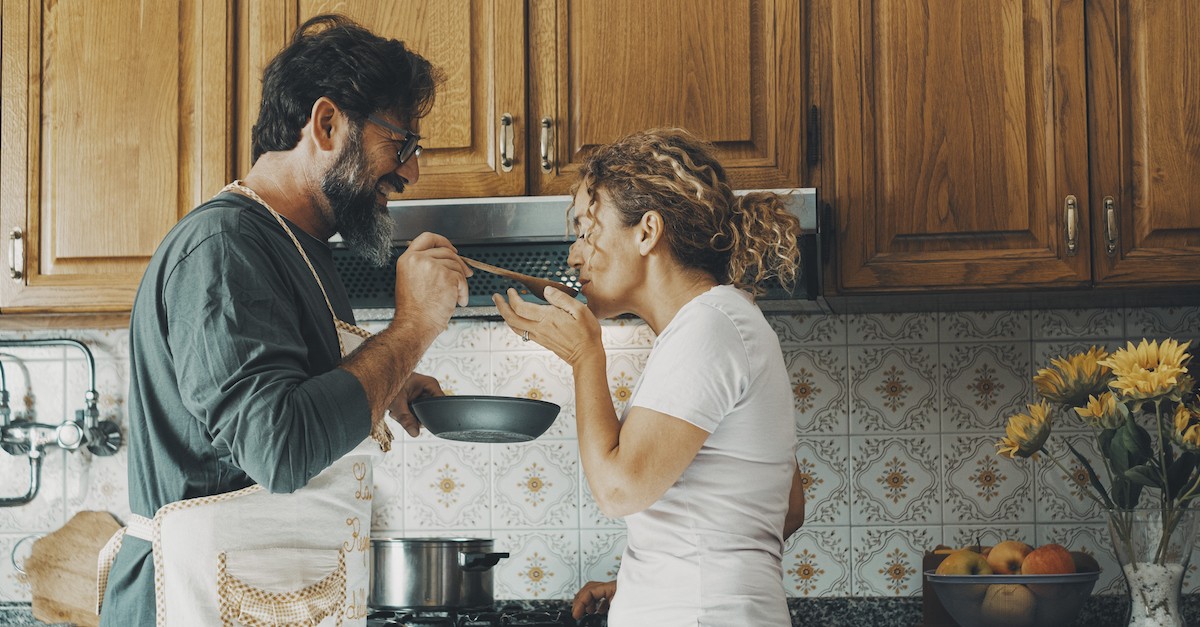 1. Butternut Squash Soup
A little bit of prep to this one, but it's all worth it!
Ingredients:
2-3 medium butternut squash
1 onion chopped
1 clove garlic minced
1/8 tsp. cinnamon
6 cups chicken broth
Heavy cream and toasted pumpkin seed for garnish
Instructions:
Preheat oven to 400 degrees. Cut and cube butternut squash and drizzle with olive oil, then toss and sprinkle with salt and paper and bake for about 30 minutes. While that is baking, sauté onion and garlic in butter until onions are soft. Sprinkle with salt and pepper. Once the squash is baked, toss it with the onions and add cinnamon until it is coated throughout. Add chicken stock and simmer for about 2-3 minutes. Remove from stove, place in a blender, and puree until smooth. You can also use an immersion blender and puree right on the stove. Pour into bowls and garnish with drizzling heavy cream and pumpkin seeds. Enjoy!
Photo credit: ©GettyImages/simonapilolla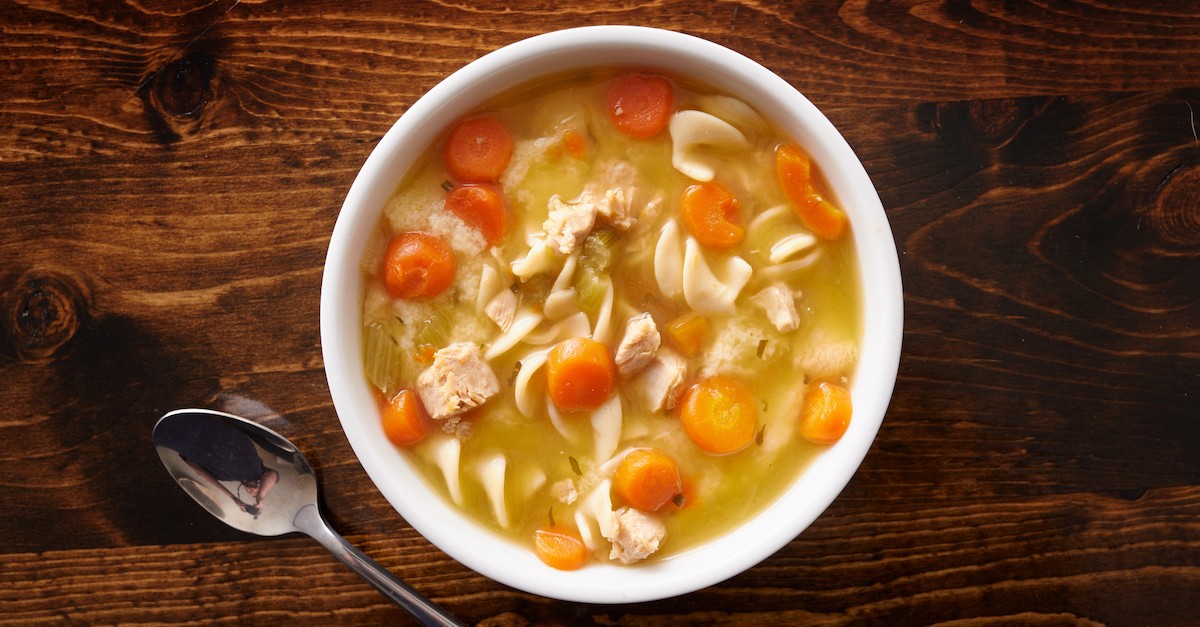 2. Creamy Chicken and Dumplings
This is a Southern favorite!
Ingredients:
2 lbs. cooked and shredded chicken breast
1 onion chopped
1 tsp chopped garlic
2-3 chopped celery sticks
1 small bag carrots, diced
6 cups chicken stock
1 pint heavy whipping cream
1 can refrigerated biscuits
Instructions:
Sautee the onions, garlic, carrots, and celery until soft. Add the chicken and sprinkle a healthy dose of salt and pepper and other spices you like, such as poultry seasonings or paprika. Once well blended, add the chicken stock and let simmer on medium heat for about five minutes. While that is simmering, take the biscuits and roll them into balls. Then pour in the heavy whipping cream and add the biscuits. Cook until the biscuits are cooked through, about 10 minutes. Then dish out and serve!
Photo credit: ©GettyImages/rez-art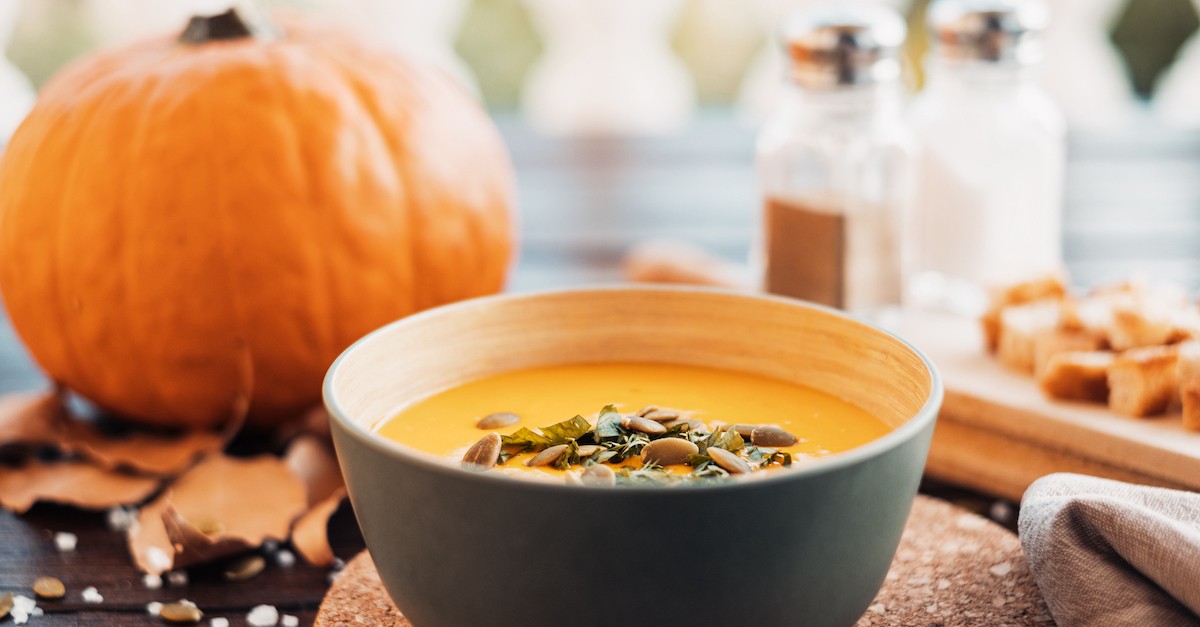 3. Pumpkin Curry Soup
If this doesn't scream Autumn, I don't know what will!
Ingredients:
2 tsp. coconut oil
1 onion chopped
2-3 cloves garlic chopped
1 tbsp. Ginger minced
3 tbsp. red curry paste
3 cups vegetable broth
2 tbsp. almond butter
1 can pumpkin puree
½ tsp. coconut or brown sugar
1 tsp. cumin
¼ tsp. cayenne pepper
2 cups coconut milk
Fresh cilantro or green onions for garnish
Instructions:
In a stockpot or Dutch oven, cook coconut oil, onion, and garlic on medium heat until translucent. Then add the ginger and curry paste and stir until blended. Mix the vegetable broth and almond butter in a small bowl until mixed thoroughly, then add to the stockpot. Cook for about 2 minutes, and then add the pumpkin, coconut sugar, cumin, cayenne, and salt and pepper to taste. Cook for another 5 minutes. Then remove from heat, place in blender (or use an immersion blender here), and puree until smooth. Add coconut milk to blender to balance out the flavor and thin it out a bit. Keep adding coconut milk until you achieve desired consistency. Serve in bowls with cilantro or green onion to garnish and sip in the taste of autumn!
Photo credit: ©GettyImages/lucigerma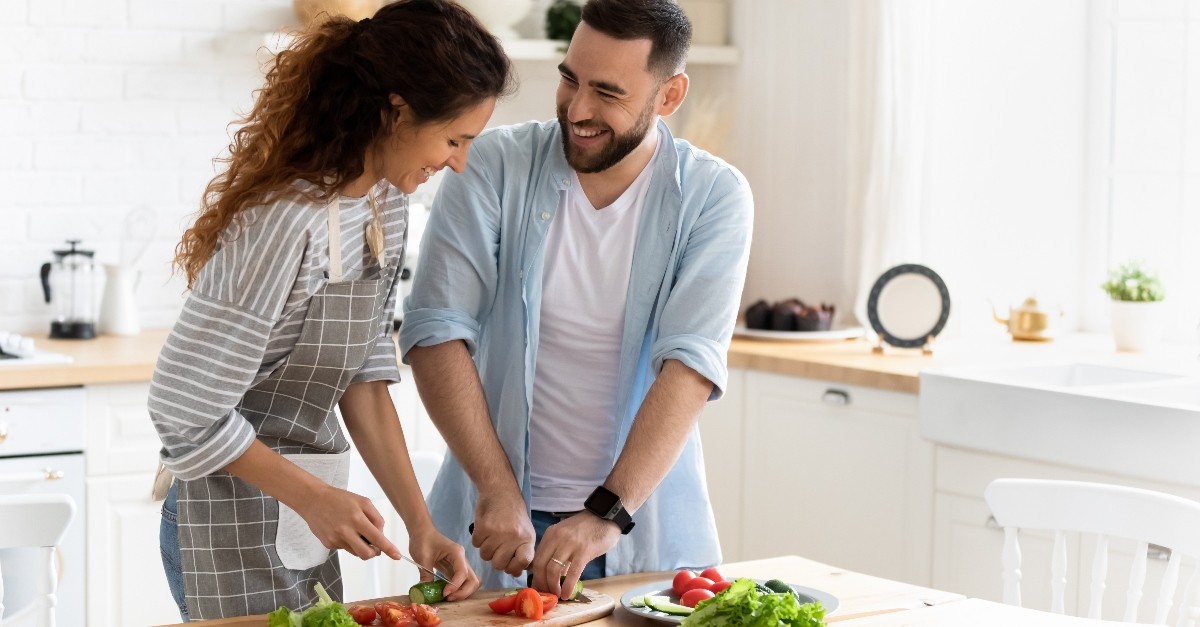 4. Taco Soup
Easy peasy recipe that is perfect for a busy fall night!
Ingredients:
1 lb. ground beef
1 onion chopped
2 cloves garlic
1 package of dry ranch dressing
1 package taco seasoning
1 can diced tomatoes with chilis
1 can tomato sauce
1 can beef broth
1 can corn
1 can black beans
Optional: tortilla chips, sour cream and cheddar cheese
Instructions:
Brown beef, onion, and garlic in a stockpot. Then add the dry ranch and taco seasoning mixes and coat the meat mixture well. Then add the rest of the canned ingredients and cook for about 10 minutes, and that's it! Serve with tortilla chips, sour cream, and cheddar cheese on top. Simple and so yummy!
Photo credit: ©Getty Images/fizkes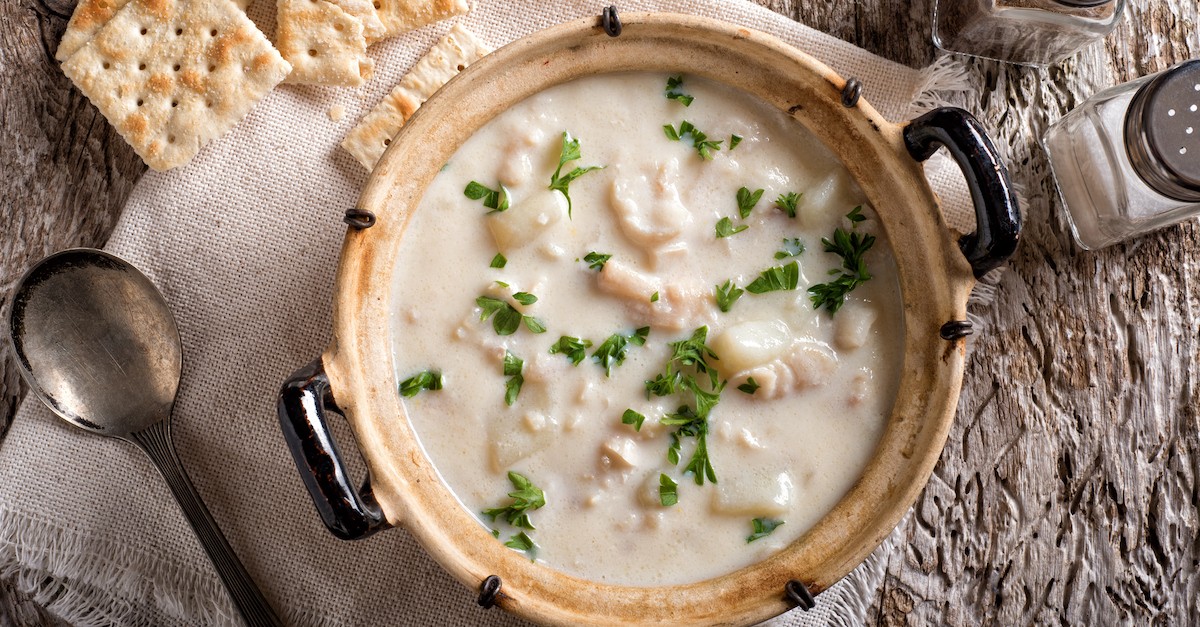 5. Potato and Corn Chowder with Bacon
Where are my bacon lovers? This one is for you!
Ingredients:
BACON
1 onion chopped
1 celery rib sliced
1 garlic clove chopped
½ tsp. thyme, garlic salt, paprika
3-4 medium potatoes cut into small cubes
2 cups frozen corn
3-4 cups chicken or beef stock
1 can creamed corn
¾ cup heavy whipping cream
Garnish with green onions, cheese, and more bacon!!
Instructions:
Start by covering your potatoes in water and bringing them to a boil. It will take about 15-20 minutes for them to get soft. In the meantime, cook a package of bacon in another stockpot or Dutch oven. Keep the bacon drippings in the pot as your oil reserve and base for your soup. However, if it is too much (if it covers way more than the base of the pan), remove some and save for another recipe; bacon grease is good for many things! Now, add the onion, celery, garlic, and seasonings and cook until soft and transparent. Once the potatoes are done, drain them and place them in the pot with the onions. Add the frozen corn and stock. Let cook for about 10 minutes or so. Then add the cream corn and heavy whipping cream and simmer for another 5 minutes. Pour into bowls and garnish with your favorite toppings and lots of bacon!
Photo credit: ©GettyImages/Fudio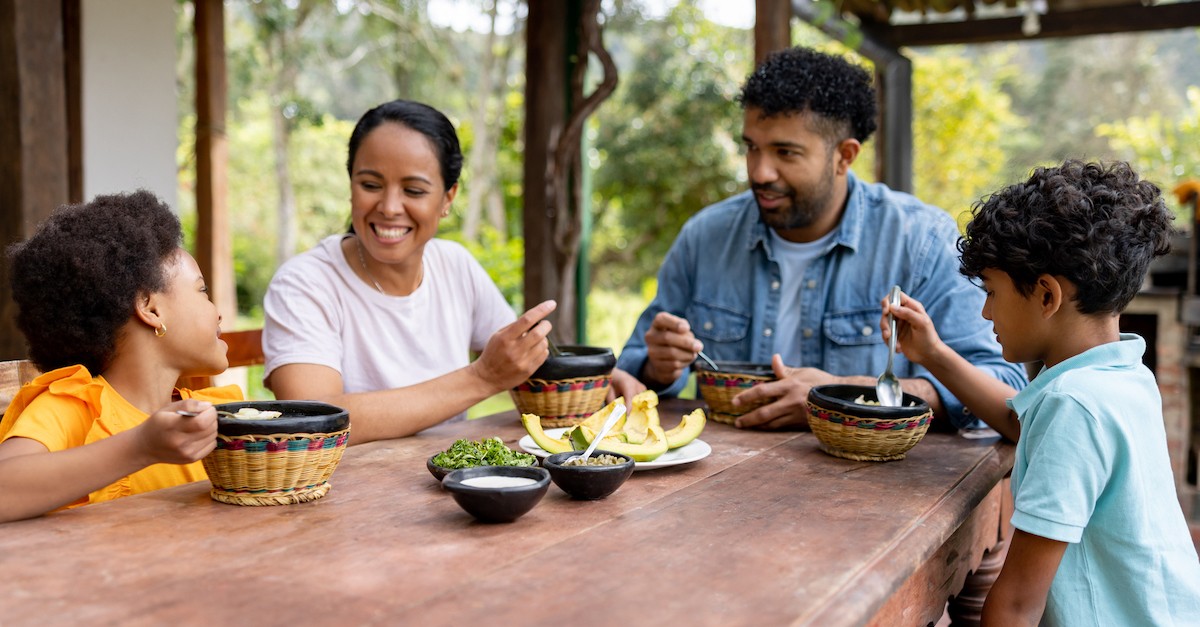 6. White Bean Chicken Chili
The perfect companion for that fall football game!
Ingredients:
1 onion chopped
2 cloves garlic chopped
2 cans chicken broth
1 can diced green chilis
½ tsp cumin, paprika, dried oregano, cayenne pepper
1 8 oz package cream cheese
1 cup frozen corn
1 can white cannellini beans
1 lb. cooked and shredded chicken
1 tsp. limes and lime juice
Optional Toppings: cilantro, avocado, Monterrey jack cheese, limes
Instructions:
Sautee onion and garlic for about 3-4 minutes, then add chicken broth, canned chilis, and all the spices, along with a dash/sprinkle of salt and pepper. Bring mixture to a boil, then reduce heat to med-low and cook for about 15 minutes. Meanwhile, drain the beans and cube the cream cheese. Then, add them to the pot, along with the corn and chicken. Simmer for 5-10 more minutes. Squeeze a little lime juice to taste before dishing it out to serve. Add your favorite toppings and bon appetite!
Photo credit: ©GettyImages/Hispanolistic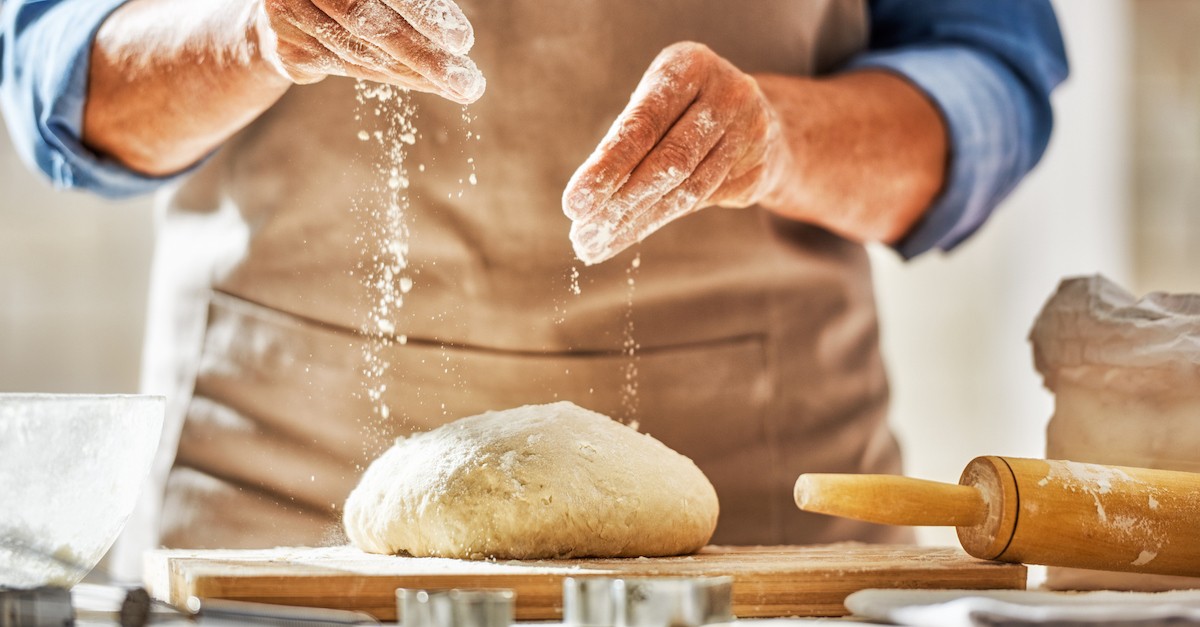 7. Bread From Scratch
Yes, it really is simple. Promise! (Oh, and no bread machine required)
Ingredients:
1 tsp. dry active yeast
2 ½ cups flour
1 ½ tsp salt
1 tsp. sugar
1 ½ cups warm water
Instructions:
In a stand-alone mixer (or large bowl), mix yeast, sugar, and warm water and let sit for about five minutes until it gets foamy. Then, stir in the salt. Using the dough hook on your mixer (or a thick wooden slotted spoon), slowly add the flour until it is mixed in with the yeast. The dough should be smooth and a bit sticky.
Sprinkle the dough with flour to keep it from sticking to the sides of the bowl. Then, take a clean, damp kitchen towel, cover the bowl, and let sit for 1 hour. After that, the dough should have doubled in size. If not, then let it sit a bit longer. Once it has doubled in size, take flour and scatter onto a large cutting board or flat surface. Gently take it from the bowl and place it on the floured surface.
You will gently kneed it here as you take the sides and fold them in. Do this a few times, then shape it into a puffy round ball shape.
Grab the mixing bowl again, sprinkle with flour, and set it back into the bowl; cover with a damp towel, and let it rise again for thirty more minutes. Meanwhile, preheat your oven to 450, and place your Dutch oven inside so it gets nice and hot. Once dough has risen a little more, remove the Dutch oven and place bread inside, sprinkle with flour, then place back into the preheated oven with the lid on for 30 minutes. Then remove the lid and let bake for another 15 minutes.
Once you remove it, let it stand for about 15 minutes, then let every one of your senses just indulge in the glow of its golden brown hue, the sound of its flakey crust, and the heavenly smells it will waft into your kitchen. Oh my! Slatter it with some butter and dip it in your favorite soup. Autumn never tasted so good!
Well, there you go, seven recipes to try this fall! As you may have noticed, nearly every recipe has onion, garlic, and some sort of stock base. These are fall must-have soup essentials, so you might want to "stock up" on those now. Oh, and if you really want to make it easy on yourself, get squeezable garlic. If you've never used that, you'll thank me later- wink, wink! Happy soup sippin' weather, y'all!
Photo credit: ©GettyImages/Choreograph