Carrie Underwood and Cece Winans Sing 'Great Is Thy Faithfulness'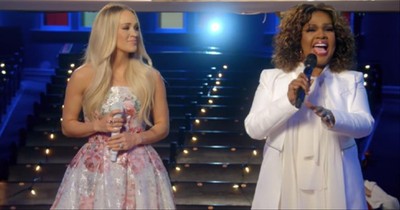 By from GodTube.com, Crosswalk.com
Listen to this beautiful rendition of the popular hymn 'Great Is Thy Faithfulness' performed by Carrie Underwood and CeCe Winans. It will give you chills!
"Great is Thy faithfulness, O God my Father, there is no shadow of turning with Thee
Thou changest not, Thy compassions, they fail not, as Thou hast been Thou forever wilt be
Great is Thy faithfulness, great is Thy faithfulness, morning by morning new mercies I see
All I have needed Thy hand hath provided, great is Thy faithfulness, Lord, unto me"
This incredible performance is part of the album 'My Savior: Live From The Ryman.' This album is co-produced by Carrie Underwood and Grammy Award winner David Garcia, and it includes covers of traditional gospel hymns. 'My Savior' is also a spiritual companion to Carrie's first-ever Christmas album 'My Gift.'
In the video, Carrie starts off the song and then CeCe comes out onto the stage to start singing the second verse. The two go back and forth singing, and the whole thing is just beautiful music to the ears!
The music video was recorded in the Ryman auditorium in Nashville, and a small orchestra is scattered throughout the space to accompany Carrie and CeCe. What a wonderful duet from these two talented women!
"Such a beautiful melody with two beautiful voices in the body of Christ!" comments one person on YouTube after watching the video. "I always loved Cece's voice and Carrie Underwood is icing on the cake. Two anointed voices blended for such a time as this! Awesome worship!"
We hope that you enjoyed listening to this performance of 'Great Is Thy Faithfulness' today, and it was able to remind you of God's sweet love for us. He is endlessly faithful, and His mercies are new every morning. And that truth is something that we can hold on to, always.
Photo Credit: ©Godtube