'Desert Road' – Casting Crowns (Official Music Video)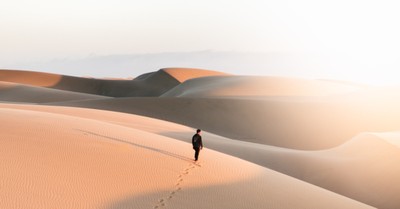 By from GodTube.com, Crosswalk.com
"Desert Road" by Casting Crowns is about those times and experiences in life when the path forward is a mystery, but choosing, in faith, to follow God's direction.
The songwriter mentions being on a desert road with doubts, and questioning God. The lyrics ask God if this plan, which remains unclear at this point, is really what He intended. Nevertheless, the songwriter puts their fears and doubts aside and steps out in faith. They are relying on their belief that God is still in control. He knows the plan and that's good enough for them.
"I don't know where this is going
But I know who holds my hand
It's not the path I would have chosen, but I'll follow you to the end"
The beautiful words so eloquently and concisely describe following and listening to God's direction at times.
The song also mentions that perhaps the songwriter had shifted their focus and was leaning on their own knowledge and understanding. The songwriter, in this situation filled with unknowns, admits their error and is ready to listen and follow God's plan once again.
In addition to the song's beautiful lyrics about stepping out and acting in faith, the song's video is also gorgeous. Viewers are treated to big, sweeping views of desert landscapes and massive rock formations.
As the lyrics remind us and the images in the video reiterates, even out in the desert, God is still in control and knows the way forward and we must trust Him.
Hebrews 11:1 "Now faith is the substance of things hoped for, the evidence of things not seen."
This content originally appeared on Godtube.com; used with permission.
More Music Videos:
Carrie Underwood Sings 'Go Rest High On That Mountain' to Honor Vince Gill
Carrie Underwood and Cece Winans Sing 'Great Is Thy Faithfulness'
Photo credit: ©Unsplash/Kyle Cottrell