'Be Thou My Vision' Keith And Kristyn Getty Official Music Video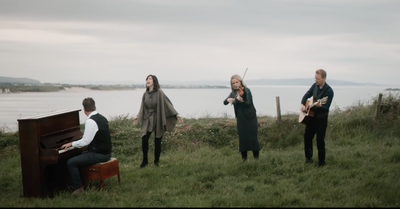 Crosswalk.com
"Be Thou my vision, O Lord of my heart, naught be all else to me, save that Thou art
Thou my best thought, by day or by night, waking or sleeping, Thy presence my light
Be Thou my wisdom, and Thou my true word, I ever with Thee, and Thou with me, Lord
Thou my great Father, and I Thy true son, Thou in me dwelling and I with Thee one"
What a beautiful music video filmed in a breathtaking location! As Kristyn sings 'Be Thou My Vision' with her lovely voice, she looks out on the majestic landscape of God's creation. And as the song goes on, you can see shots of other musicians in the music video playing among the picturesque setting.
"Excellent cinematography and vocal production. I liked the fact that the voice maintained a soft, smooth tone with the muted piano and synths in keeping with the Celtic feel," writes one person on YouTube after watching the music video.
"Thank you, I love this hymn. You did a great job reflecting God's greatness," comments another person online.
Keith & Kristyn Getty are modern hymn writers who were born in Northern Ireland and are based in Nashville. According to their YouTube page, "they are multi award-winning artists with Keith being the first musician of the modern era to be awarded the OBE from Queen Elizabeth II for service to music and hymn writing. With a desire to help teach the Christian faith, their music intertwines deep theology with a unique musical genre, drawing from both inside and outside the classical church form, to reinvent the hymn."
We hope that you enjoyed listening to this version of 'Be Thou My Vision' today and it was able to uplift you.
Be Thou My Vision Hymn Lyrics, Story and Meaning
Photo credit: Unsplash/Davide Cantelli