Father-Daughter Duet to Olivia Newton-John's 'Hopelessly Devoted To You'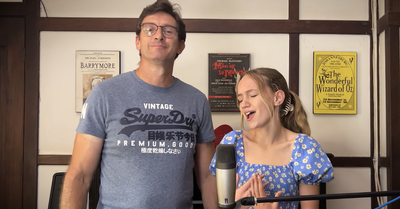 By from GodTube.com, Crosswalk.com
Adrian and Emma-Jean Galliard, a father-daughter duo, tried their hand at the song made famous by Sandy in Grease. The video posted on YouTube shows dad and daughter standing near a microphone as they take turns belting out the lyrics to the popular tune.
The song's lyrics tell the story of a young woman fighting a battle between her heart and mind. Her mind tells her to do one thing while her heart yearns for an entirely different course of action.
"My head is sayin', 'Fool, forget him'
My heart is sayin', 'Don't let go'
Hold on to the end, that's what I intend to do"
First up is Emma-Jean. It takes only seconds to realize that this young lady has a ton of musical talent. She sings the first verse. Her father, Adrian, takes over the singing duties for the second verse.
Adrian, like his daughter, has a fair amount of musical talent and ability. Dad shows throughout the classic song that he can sing, but Emma-Jean steals the show. It's startling, at times, to hear a voice that sounds like that coming from someone so young. There were instances in the video where I thought someone else had dubbed over Emma-Jean's voice in the video. She hits such high notes and sounds very much like a seasoned professional.
Users commenting on the duo's YouTube video expressed their complete astonishment, praising Adrian and Emma-Jean for their performance.
"Olivia is smiling down on you two for this wonderful cover!! Gave me chills!! Emma-Jean, your voice has gotten even more powerful, my girl!!! Wow!" one person wrote.
"Such an enjoyable presentation by Father and Daughter. Their harmonising is wonderful with their voices blending effortlessly together. Well done," a second person added.
Psalm 96:1 "O sing to the Lord a new song: sing to the Lord, all the earth."
This content originally appeared on Godtube.com; used with permission.
Photo credit: ©GodTube/Adrian & Emma-Jean Galliard Music